ELL Family Night, October 12th 5-6 PM in the Media Center
Come join DECA's fundraiser at Uno's in Bellingham, Thursday 9/21. Please be sure to bring the brochure with you.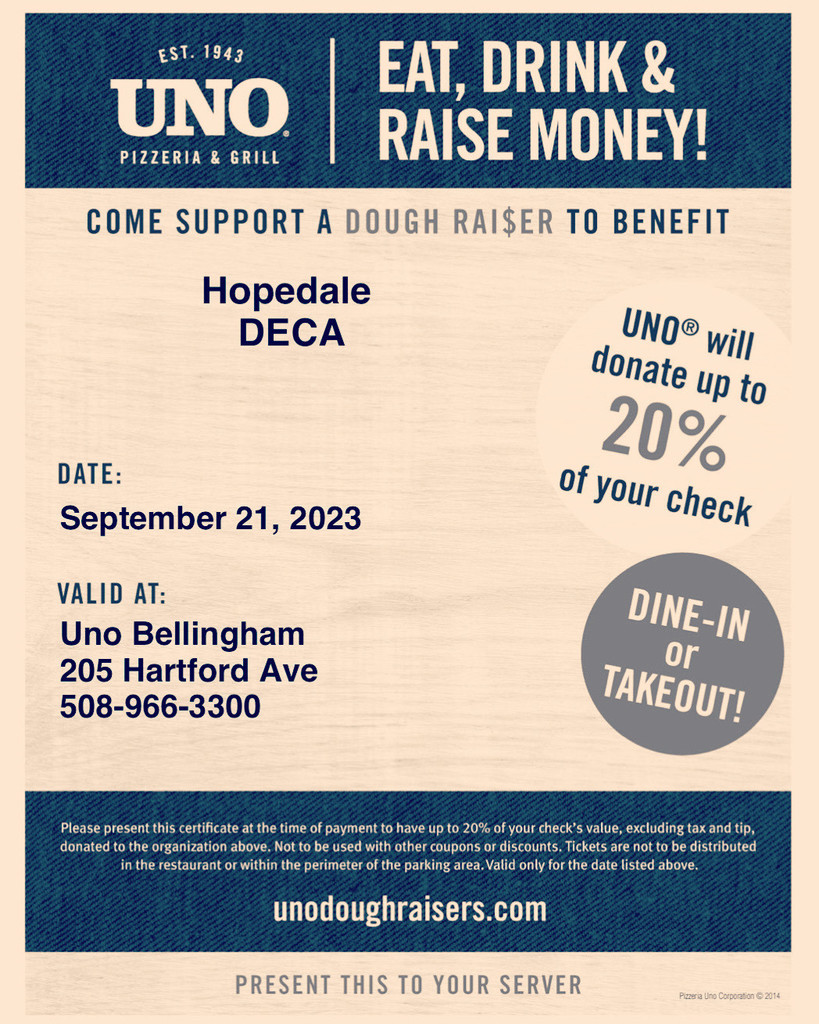 Attached are Hopedale Jr./Sr. Honor Roll.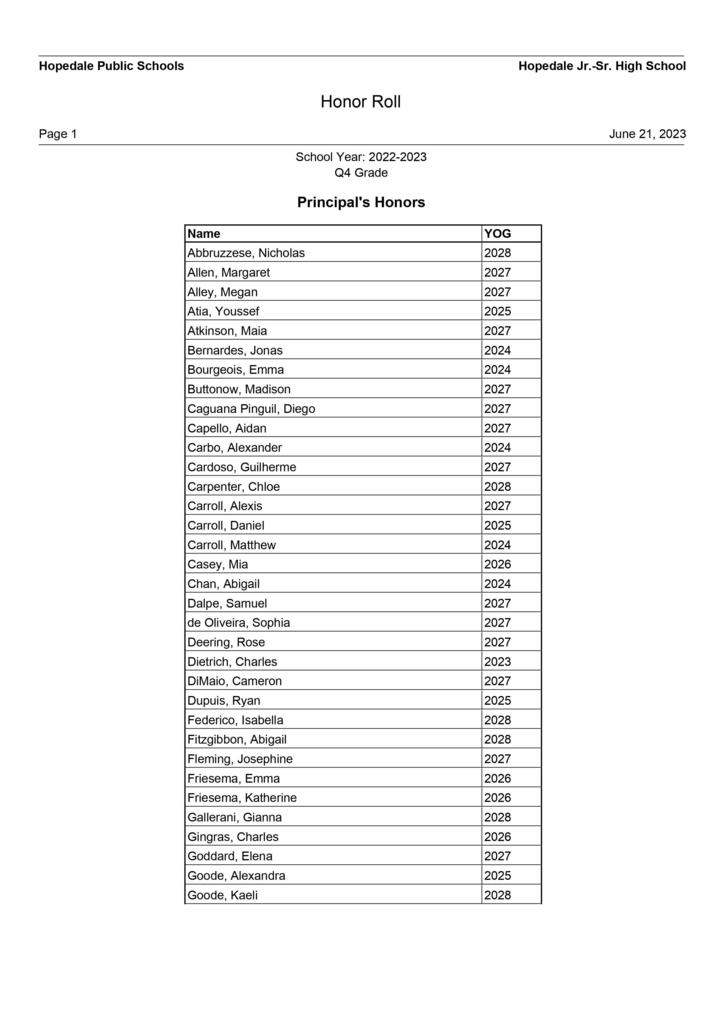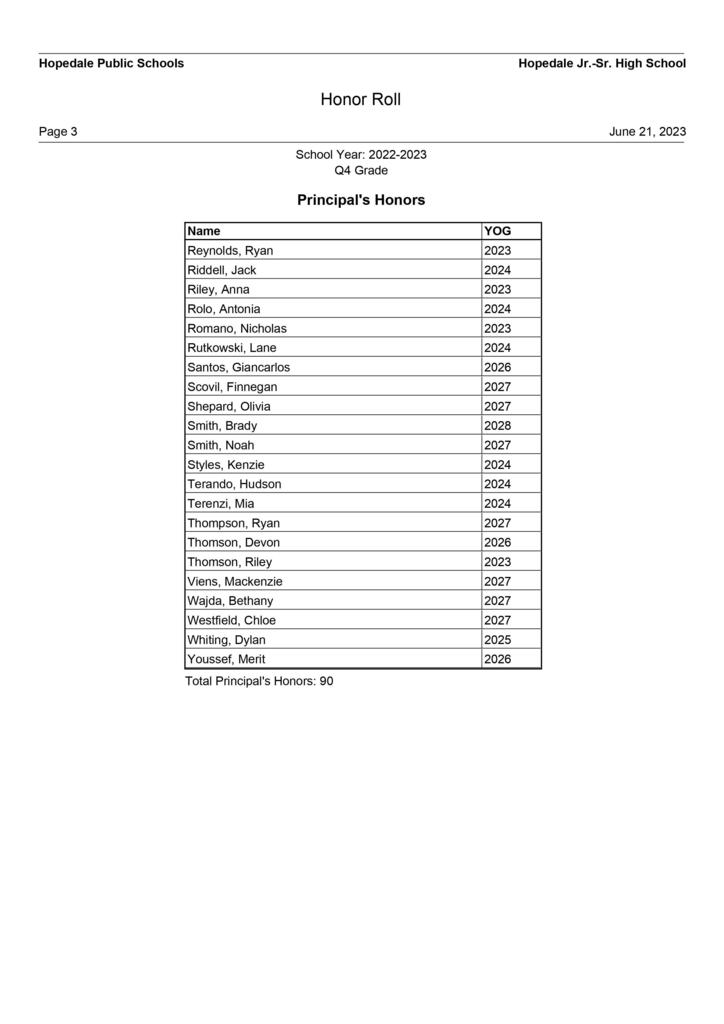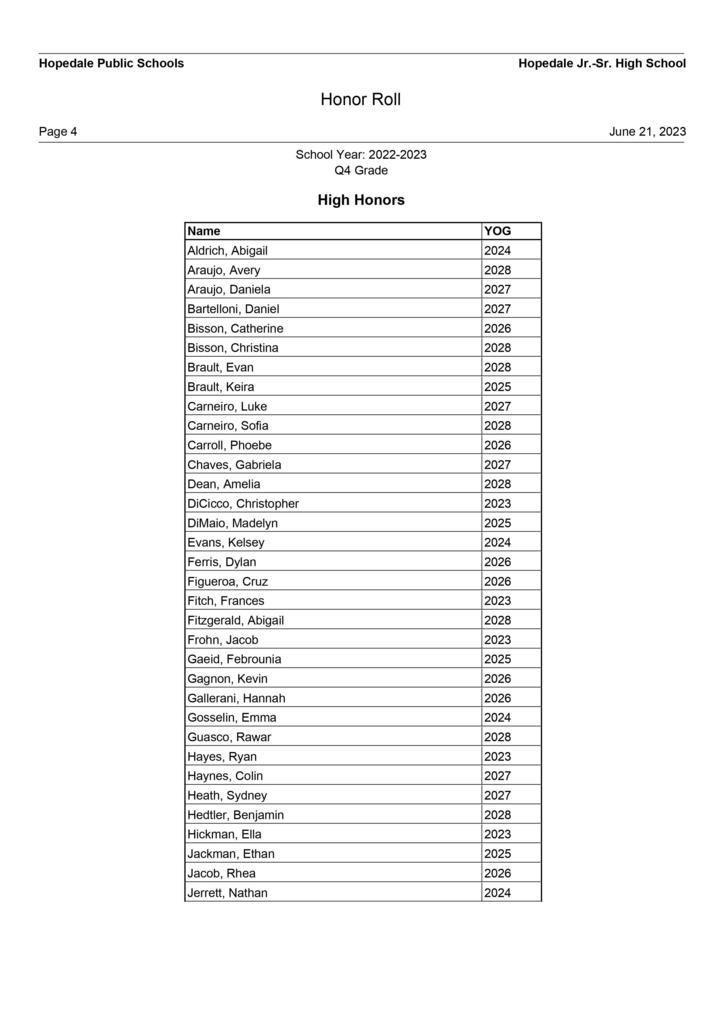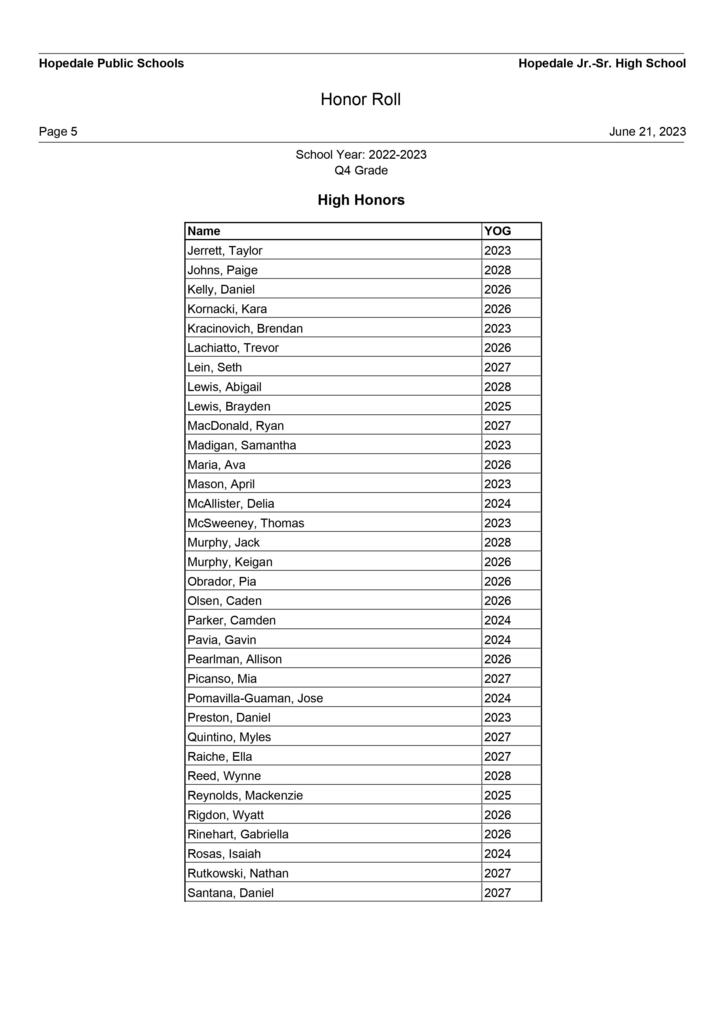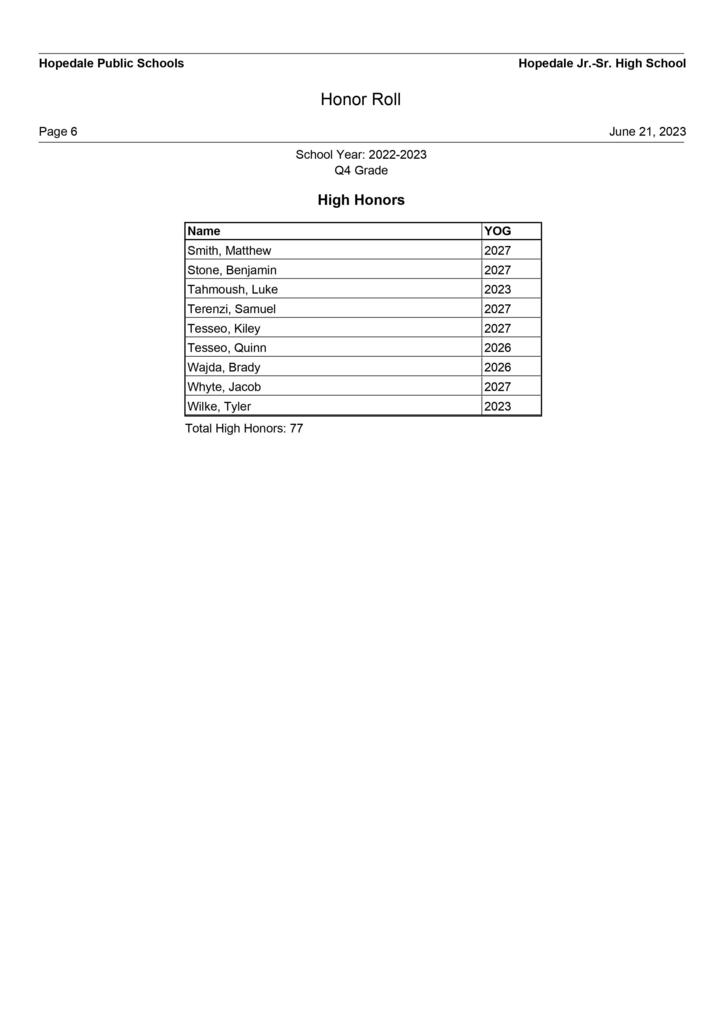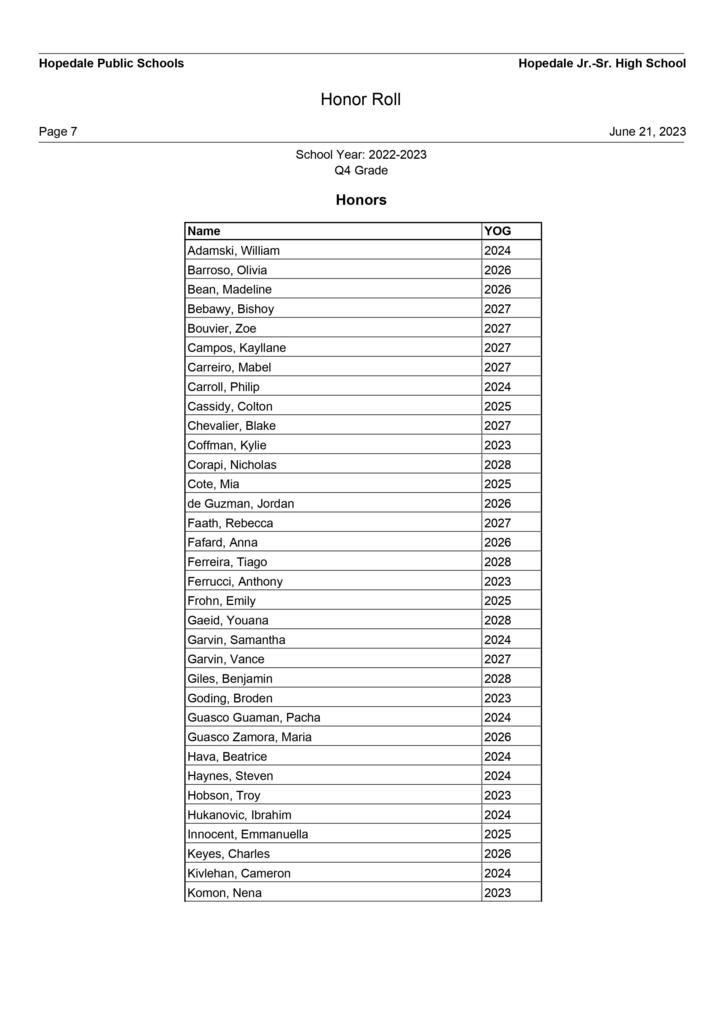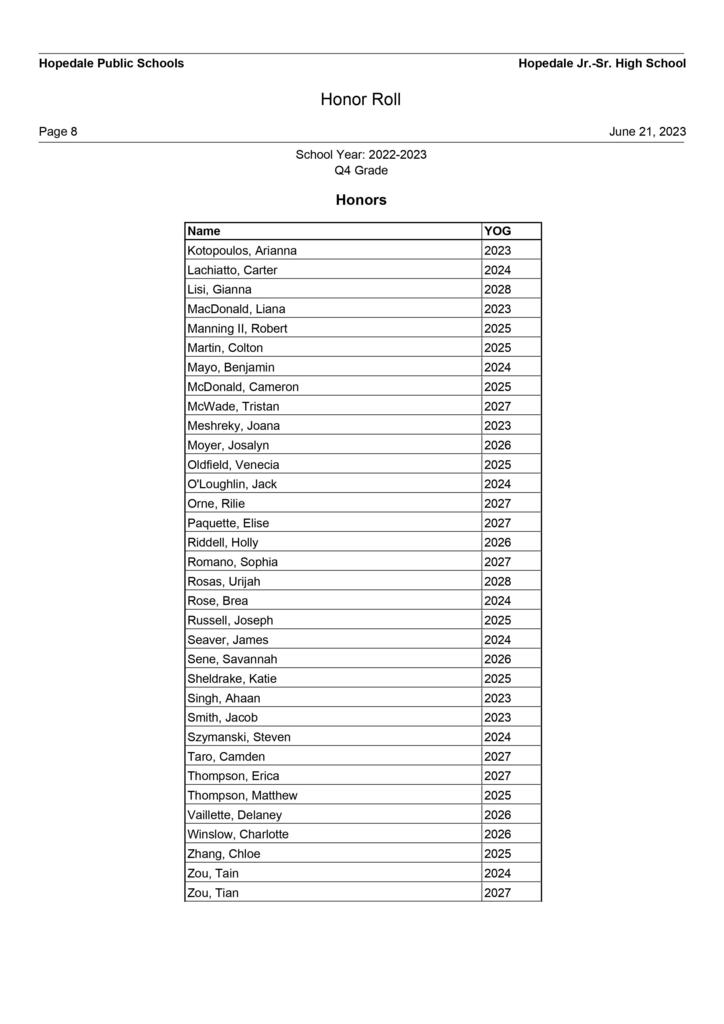 Important Dates to Remember: 8/22 Grade 7 Orientation/Student "Lock-In" 8/29 Grade 1 - 12 Students Return to School 8/31 School Photos with Morin's Studio 9/1 No School 9/4 Labor Day - No School 9/28 Jr./Sr. High School Back to School Night 6:30 PM Please be reminded the Nurse requires each student to have an updated physical annually. Please, make sure your child is up to date or schedule an appointment over the summer.
Milford Hopedale Youth Soccer Fall 2023 Travel Soccer Season Tryout Dates and Times for Grades 3-8
Class Ring/Jewelry Order Event!! Family Ordering Night: Wednesday, May 24h, 4:30-6 PM in the Cafeteria In school order date: Thursday, May 25th during lunches. You can design & order your ring online @
www.jostens.com
. You can also print out your web quote and bring it to the order table at school. ATTENTION Class of 2026!!! It's time to order your class jewelry for the Ring Dance/Ceremony on October 21st, 2023. Ring information packets with disposable finger sizers were distributed at the class meeting on 5/18. Every student who purchases class jewelry by 5/31/2023(with the exception of P rings)will qualify for one of the FREE gifts pictured below. Choice of Custom Hoodie, Adidas Striker II Backpack OR Cleer GOAL Wireless Earbuds-wireless charging case included!
In conjunction with the Hopedale Police Department, the Hopedale Jr./Sr. High School successfully conducted a lock down drill this morning.
Thursday, May 18th - 6PM - 8PM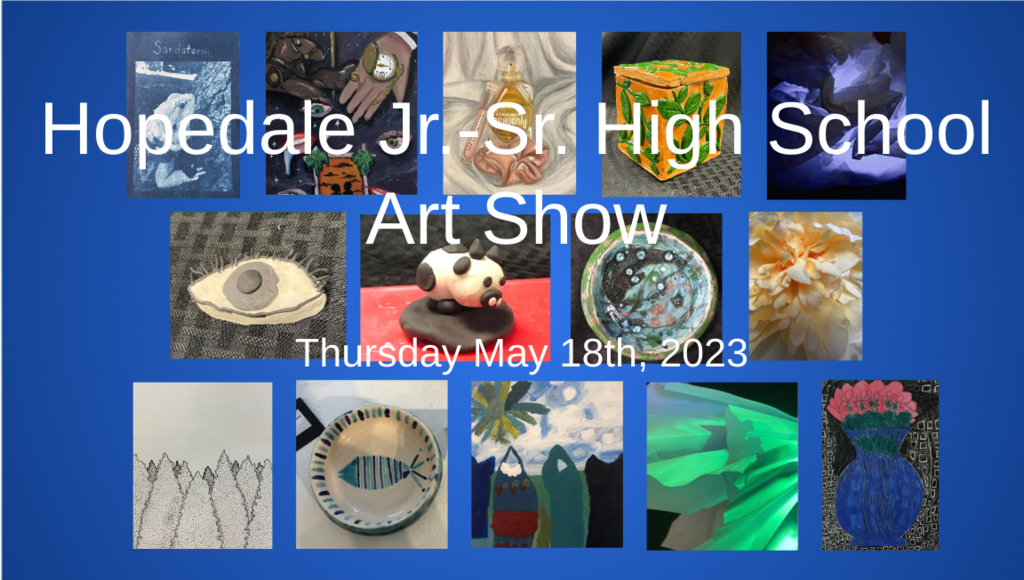 Honor Roll for Q3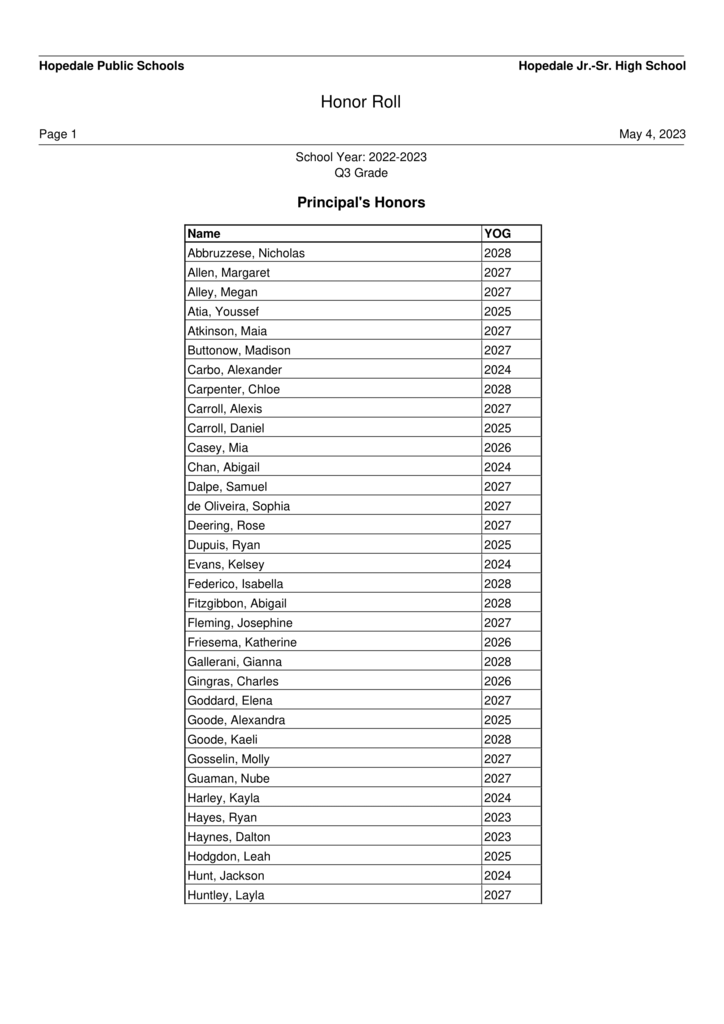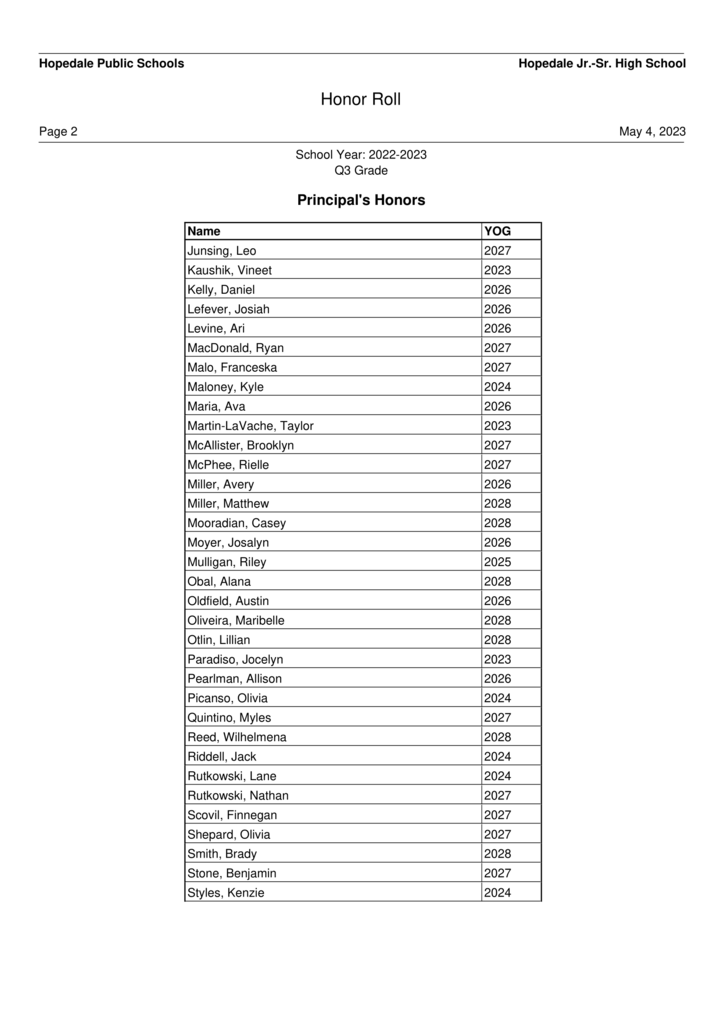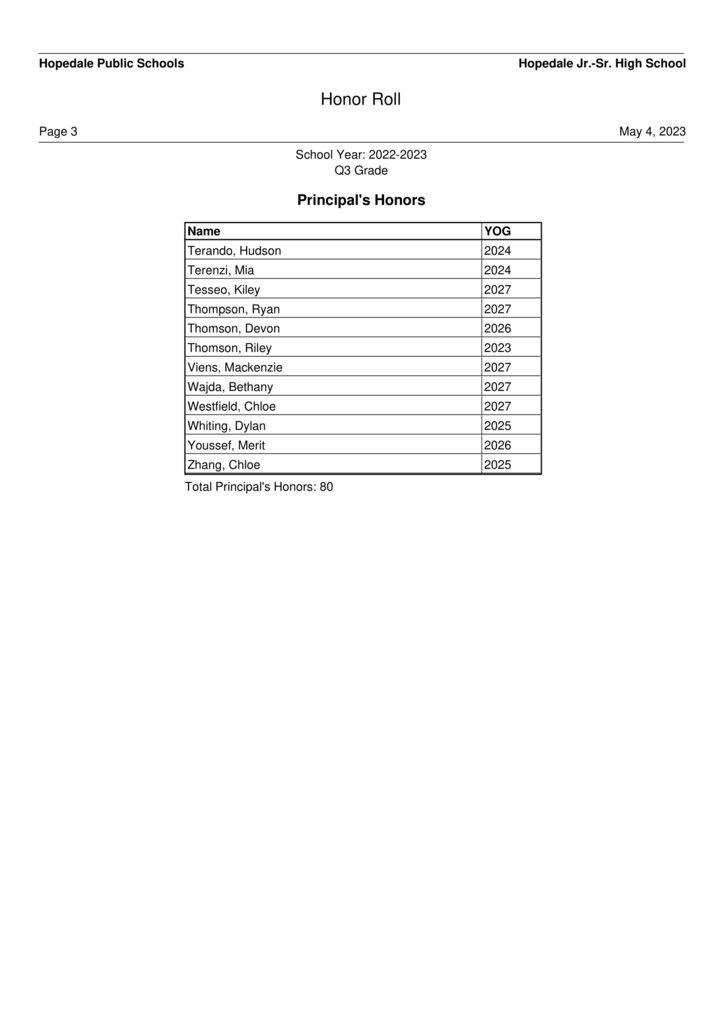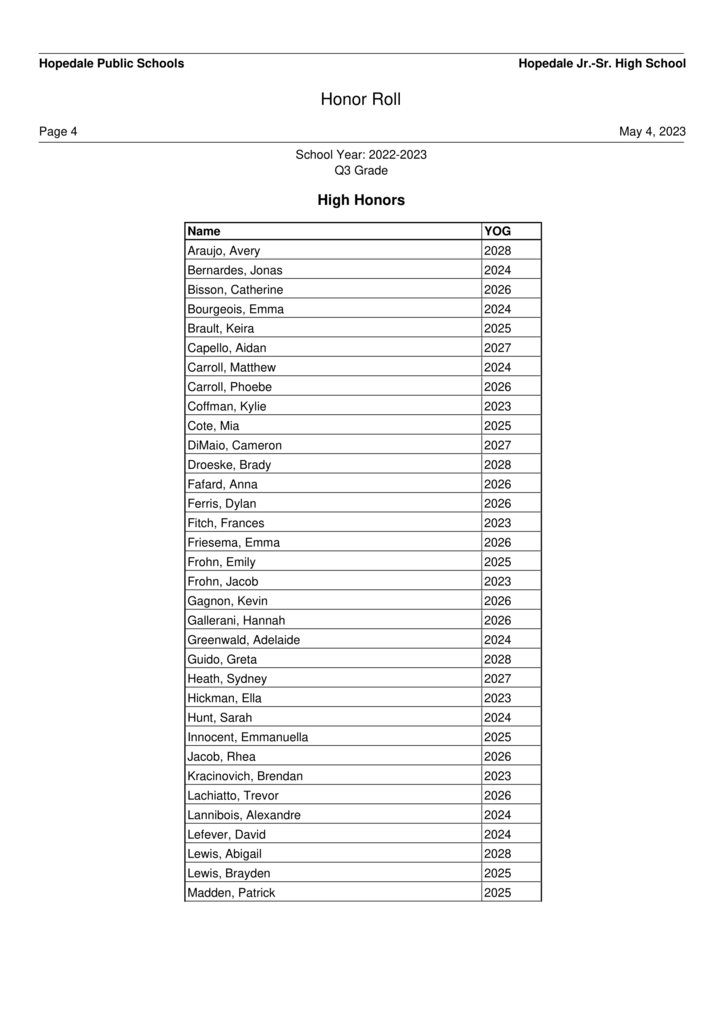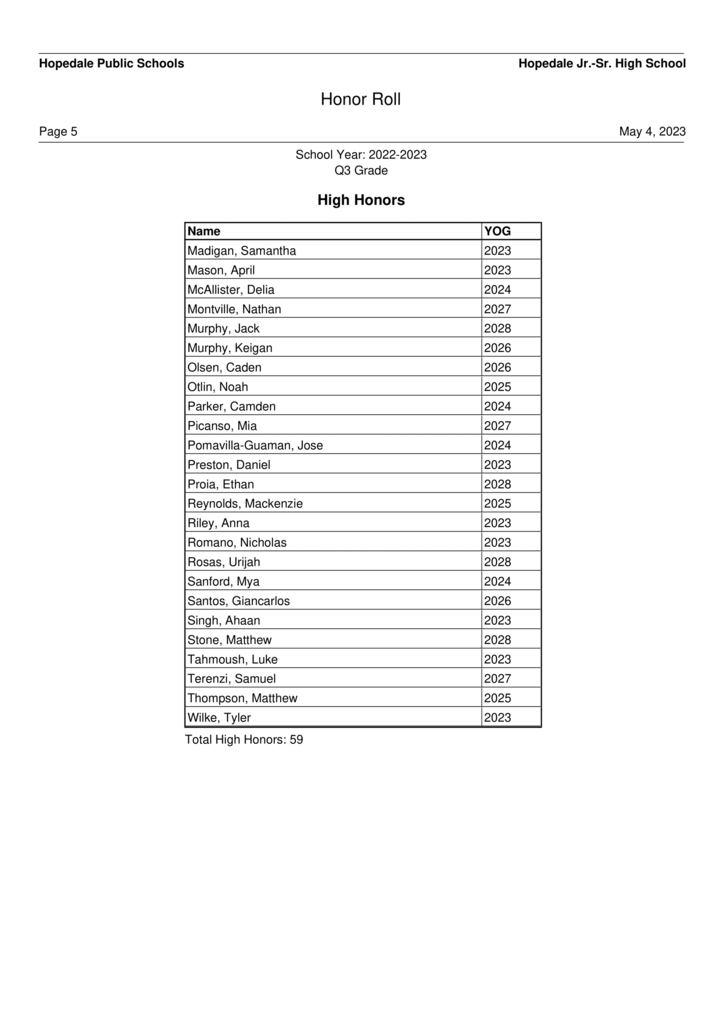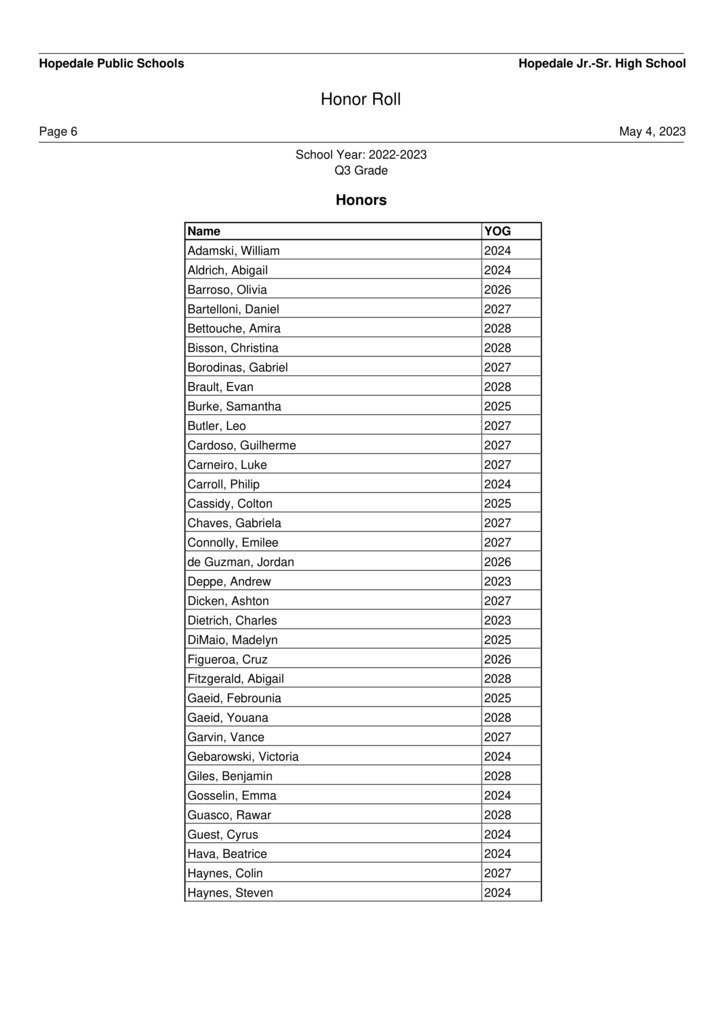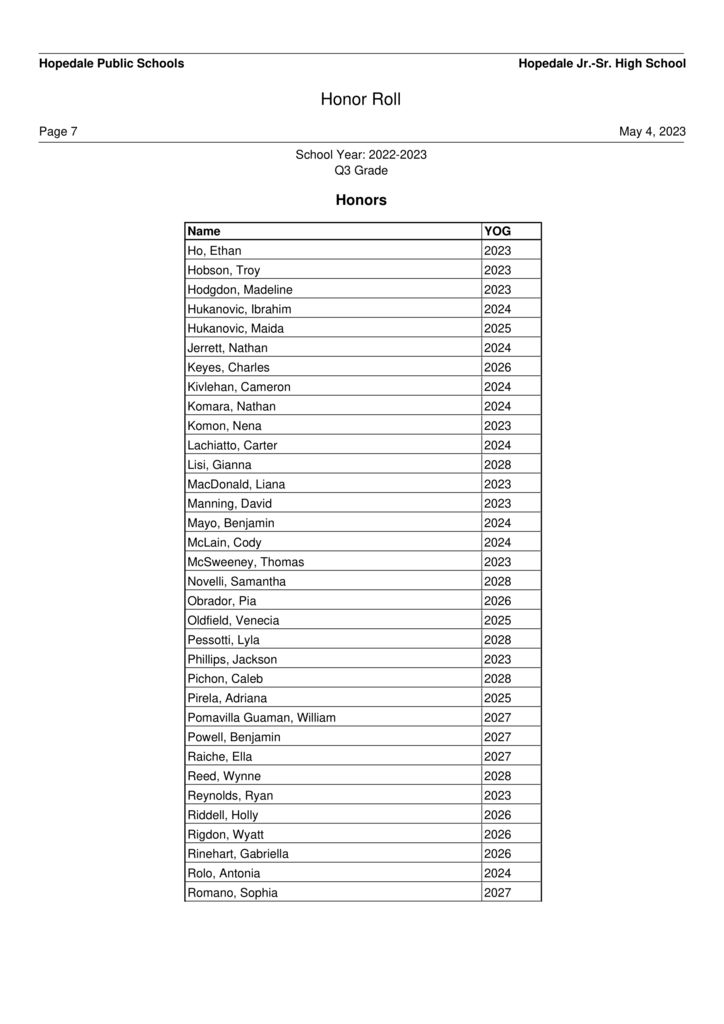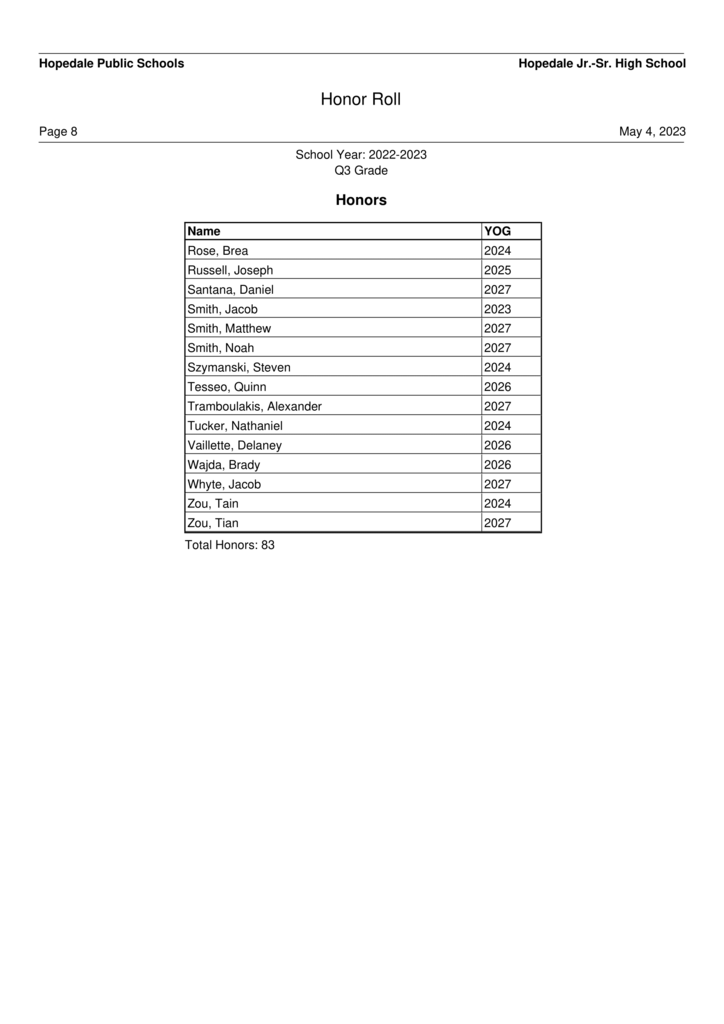 Hi everyone! The Hopedale Drama Club is holding a fundraiser at Panera in Milford tomorrow, Thursday, May 4th from 4-8pm. The Hopedale Drama Club is holding a fundraiser at Panera in Milford tomorrow, Thursday, May 4th from 4-8pm. Stop by and get some delicious food as the Drama Club will receive 20% of all proceeds. Please be sure to show the flyer to the cashier when ordering - either a paper copy or on your phone! You can order ahead online and use the code " FUND4U" to apply your order to our fundraiser. We appreciate your support!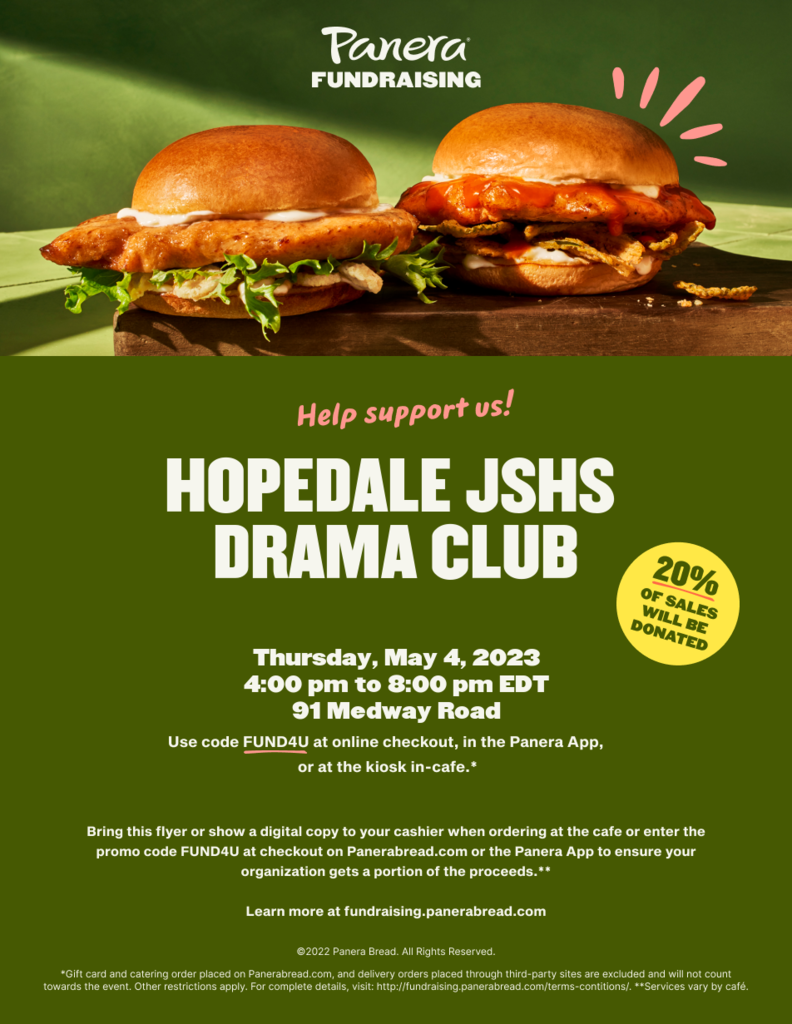 Join us at Papa Gino's today, Thursday 4/27 @ 4 - 9 PM 20% of sales will support Hopedale Jr.-Sr. High School Drama Club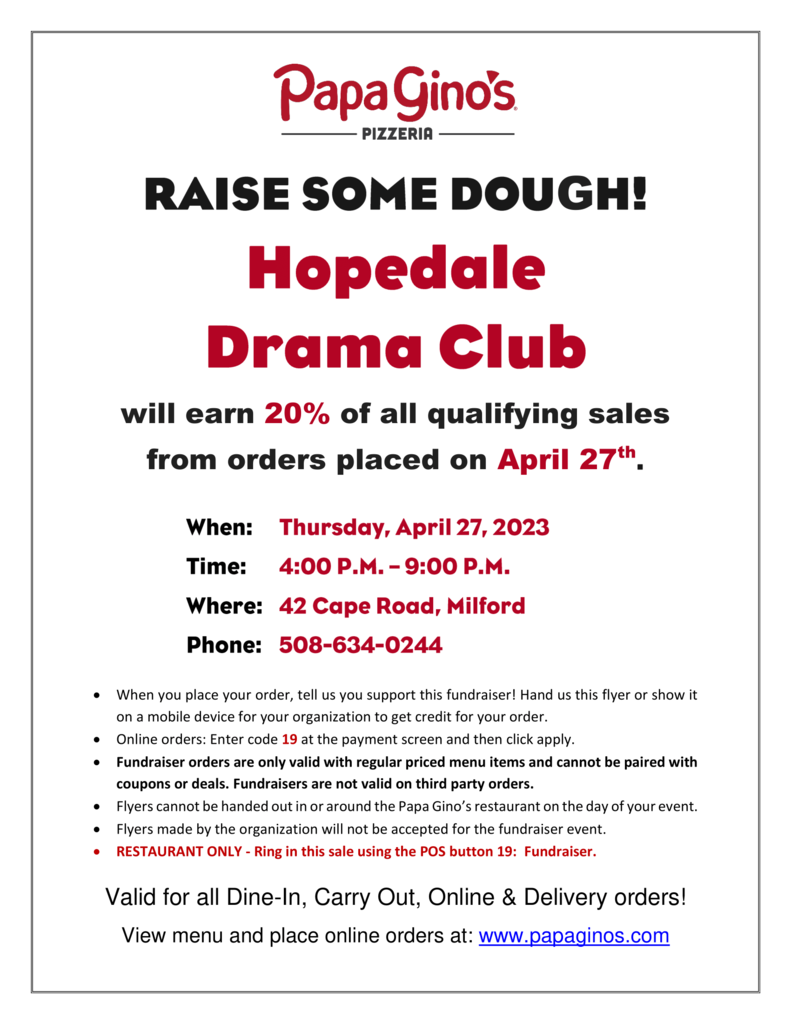 Please join us for a fun night at Hopedale Jr./Sr. High School for Mr. Hopedale 4/23 at 7pm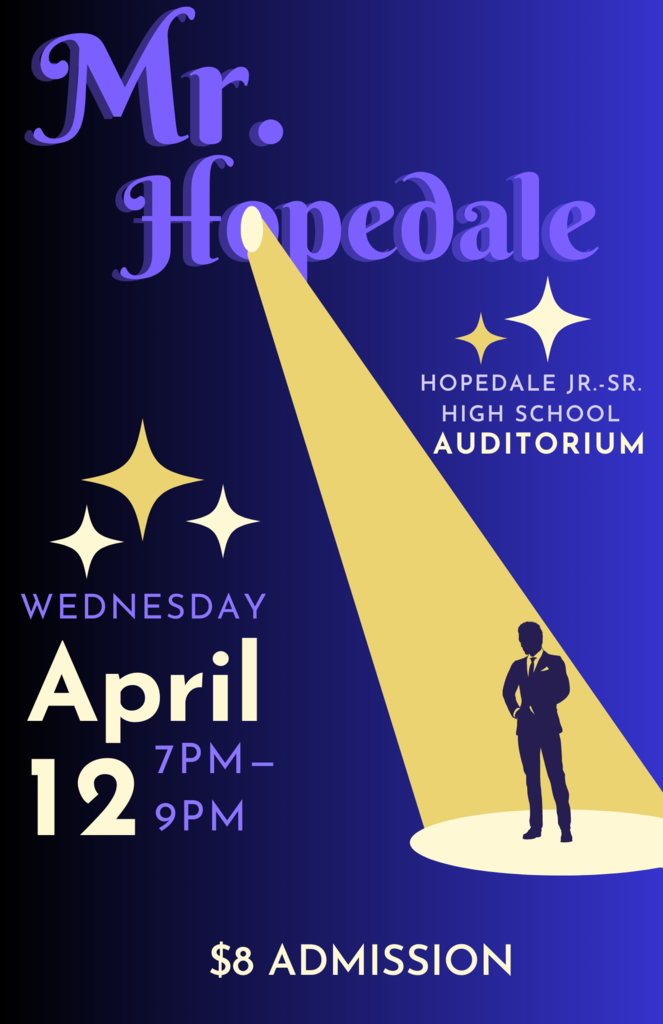 After Prom fundraising opportunity at DQ. April 11th 5-8PM
DECA will also be hosting a car wash on 4/8 10am - 2pm!
Hopedale DECA is competing in Orlando. Please join us April 8th 10am -2pm .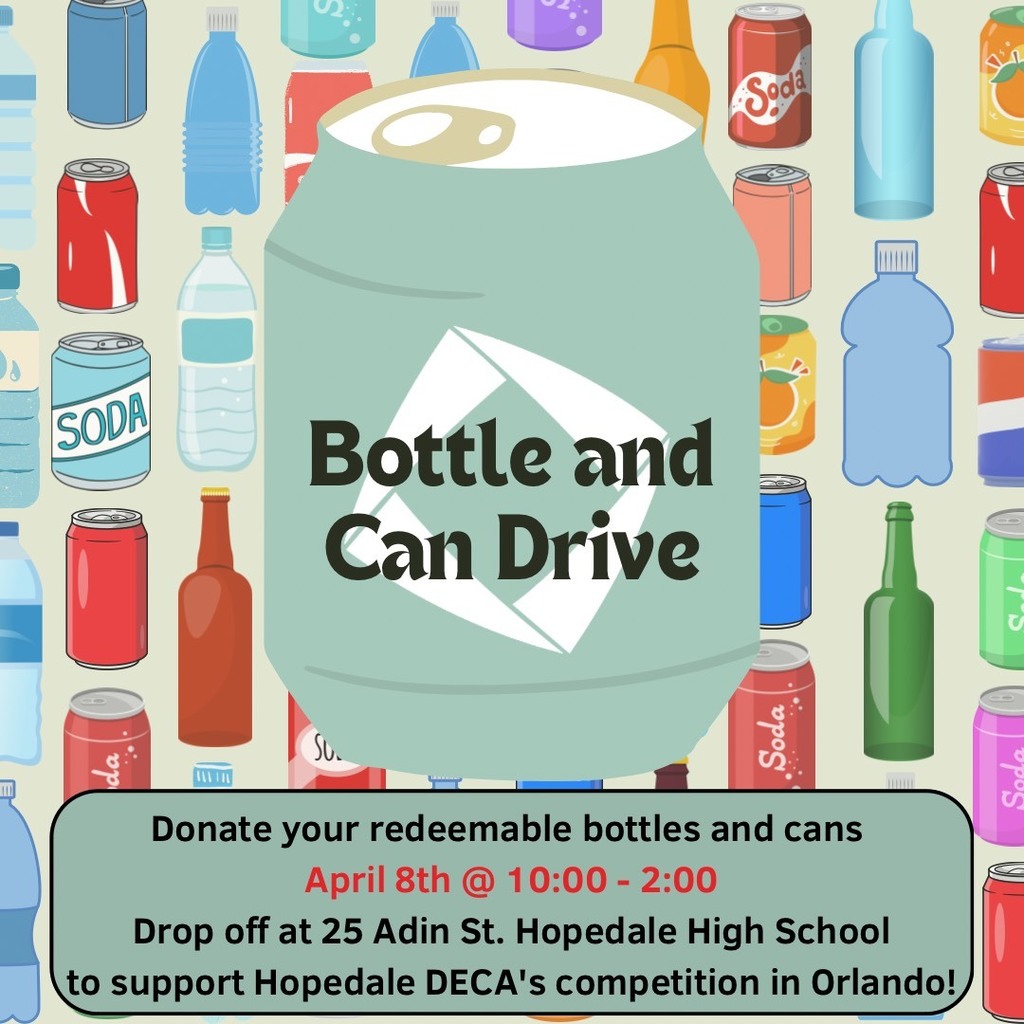 Hopedale DECA ICDC will be holding a fundraiser at Papa Gino's on Wednesday, April 5th from 4pm - 8pm. DECA will earn 20% of qualifying sales from orders. Please see the attached flyer for further details and the link below to RSVP
http://www.groupraise.com/events/249082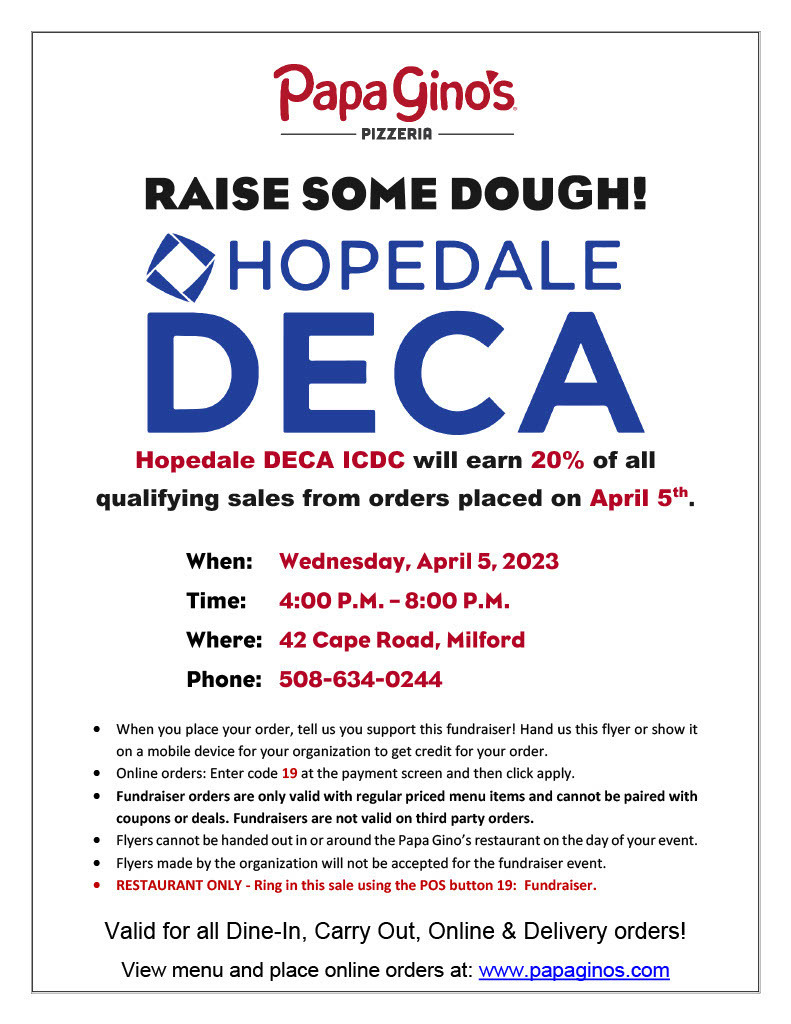 Dear 8th, 9th, and 10th Grade Families, We are thrilled to offer Innovation Pathways in Business and Biomedical Science again next school year at Hopedale Jr.-Sr. High School. Students in grades 8 - 10 who are interested in these career pathways are encouraged to apply using the application on the Innovation Pathway website by Friday March 31, 2023. The Innovation Pathway designation from the Department of Elementary and Secondary Education was awarded during the 21-22 school year after a successful grant application process. Following this designation, significant grant funding for the 22-23 school year in the amount of $85K was received in December of 2022 to support the implementation of Innovation Pathways at Hopedale. Additionally, Hopedale received a state of the art dissection table to support the Biomedical Science Innovation Pathway program through a Capital Skills grant and the Hopedale Alumni Association. innovation Pathway funding awarded each year through this 5 year grant will include many opportunities for students: academic advising, expansion of the MyCAP, career talks, job shadow days, field trips, networking, project-based learning, and work-based learning. In addition, grant monies will help to pay for curriculum, supplies, dual-enrollment courses with our local community college partners, costs associated with Advanced Placement coursework, and allow for some paid internships. If you didn't see the article in the Local Town Pages last month, please check out our recent Innovation Pathways Open House event. We are looking forward to continuing our Business and Biomedical Innovation Pathways at Hopedale with our 2nd cohorts of students. Families and students who are interested in learning more about Hopedale's Innovation Pathways should review the Innovation Pathways website or email the Innovation Pathways Coordinator at
lingemi@hopedaleschools.org
. In addition, we are always looking to expand our business partnerships. If you are interested in learning more about the ways local businesses can support Innovation Pathways, please don't hesitate to reach out. We are thankful for our business partners who continue to support career connections for our students. Sincerely, Innovation Pathways Planning Team Derek Atherton (Principal) Anthony Beaudry (Unified Arts Depart. Head) Laura Ingemi (Internship & Capstone Educator and IP Coordinator) Tim Maguire (Science Educator) Jill St. Martin (School Counselor) Talitha Oliveri (Business Educator) Kate Raspallo (Science Depart. Head) Brochure:
https://u345601.ct.sendgrid.net/ls/click?upn=U5Y20fCQWuqOdCDPB6tCo-2BJRul3k89rL8cgnoMBySpF5wBlfJGhh7nupc9LNu8lTGHTVZQPsFDhPZrff5hfKfG03L0moXft1B5Dh95FDHk8-3D8QW1_IwMBvCz8FHbAgRyD1hIcfi9mSJBtdLty9q6vyb9252vI9-2FQZL-2FWzF48aPDxnUgpl9W80Svn4fU3-2BjUq5U-2FGo2HvJp9-2FvCCbWNKvzJCcpIfdUuWO8sPKsEaEeJTKJw23SYdPgF18SawkjTNzzW-2FsyKsaRQxPJqcxUnBaA3N-2Bm4v2GSz-2BaJVvZ4o5vsQxtNTy0JmizkL2WTXjihKN68dVISAcF-2FwsKA9KibOYM7q2x3UigdRgd-2Bj0Z7buihlQT-2FsSXMaROIfPtwbEXLZdUq6a5s9Fk5XsFSFJkX1ZSjT3kRKAsPyEtjAW60026mtIBhWgM
Application:
https://u345601.ct.sendgrid.net/ls/click?upn=mdJwDbV8CHEJpZNPb5E-2B7vGiEhDbBwVmvaJAoxHxNox4gSf5NYiPACWBFcUjR7VsaexfYZCobejfRuWgMUQtBp3aCDfJo64F9jOkXJUslo3ZX7IaBJgSekR1qFtCJbXjneZQkFGzVP2-2Fl5PZu5Hs9Q-3D-3DfhV5_IwMBvCz8FHbAgRyD1hIcfi9mSJBtdLty9q6vyb9252vI9-2FQZL-2FWzF48aPDxnUgpl9W80Svn4fU3-2BjUq5U-2FGo2HvJp9-2FvCCbWNKvzJCcpIfdUuWO8sPKsEaEeJTKJw23SYdPgF18SawkjTNzzW-2FsyKsaRQxPJqcxUnBaA3N-2Bm4v3OZNqa8ajRgG3cXqmKz5aOnX96DKwc3Fmf0WEOfDJRrPO-2BI0GUQ2LDAAR-2BDHp3yblIAQKqtA-2Fo5R1HV0XbzbhGB2P5UB-2BTLU4PYtUkrLitffsZaGgW0Fxpgl0Pxb-2FfVmi0u30dn3w8OJucVCTppPd-2F
The Hopedale STUCO is holding a DQ Fundraiser TONIGHT, Thursday, 3/23/23 5-8pm. Stop by the Milford Dairy Queen for some delicious food, a refreshing drink, or a tasty blizzard! 10% of all proceeds will go to benefit the Student Council! Thank you! Hopedale Student Council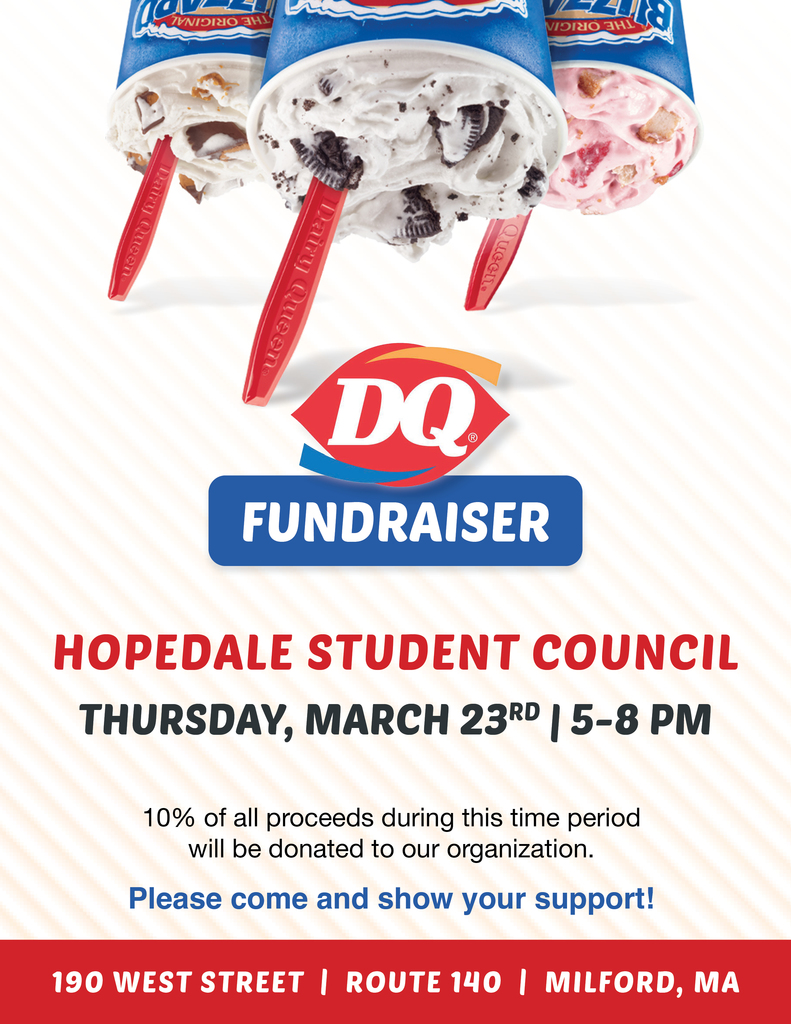 After Prom Party at Pinz Permission Form - 2023. Must be signed by parent / guardian.